Blockchain Hub Davos: Day 3 Recap
Day 1 and Day 2 (and "Day 0," for that matter) were all about the present: how organizations today are using blockchain technology to drive meaningful business outcomes, and how they are increasingly recognizing the distinction between blockchain, and its broad suite of applications, and cryptocurrency, a single function of blockchain technology.
Day 3 of the Blockchain Hub kicks off! Photo Credit: Loris Di Minico
Day 3 shifted gears, and looked to the future.
The day's theme was "Futurist Forum," with programming focused on what the next decade and beyond will look like for the industry's evolution – from the perspectives of the people actively building it out.
Marco Aniballi (BlockBlox) and Brigitte Vézina (Creative Commons) kicked off the day's festivities with keynotes on how decentralization's potential to positively impact some of the world's most pressing problems and how to enable more open cultures, respectively.
XPRIZE and DEVxDAO announce €3 million grant program for Casper developers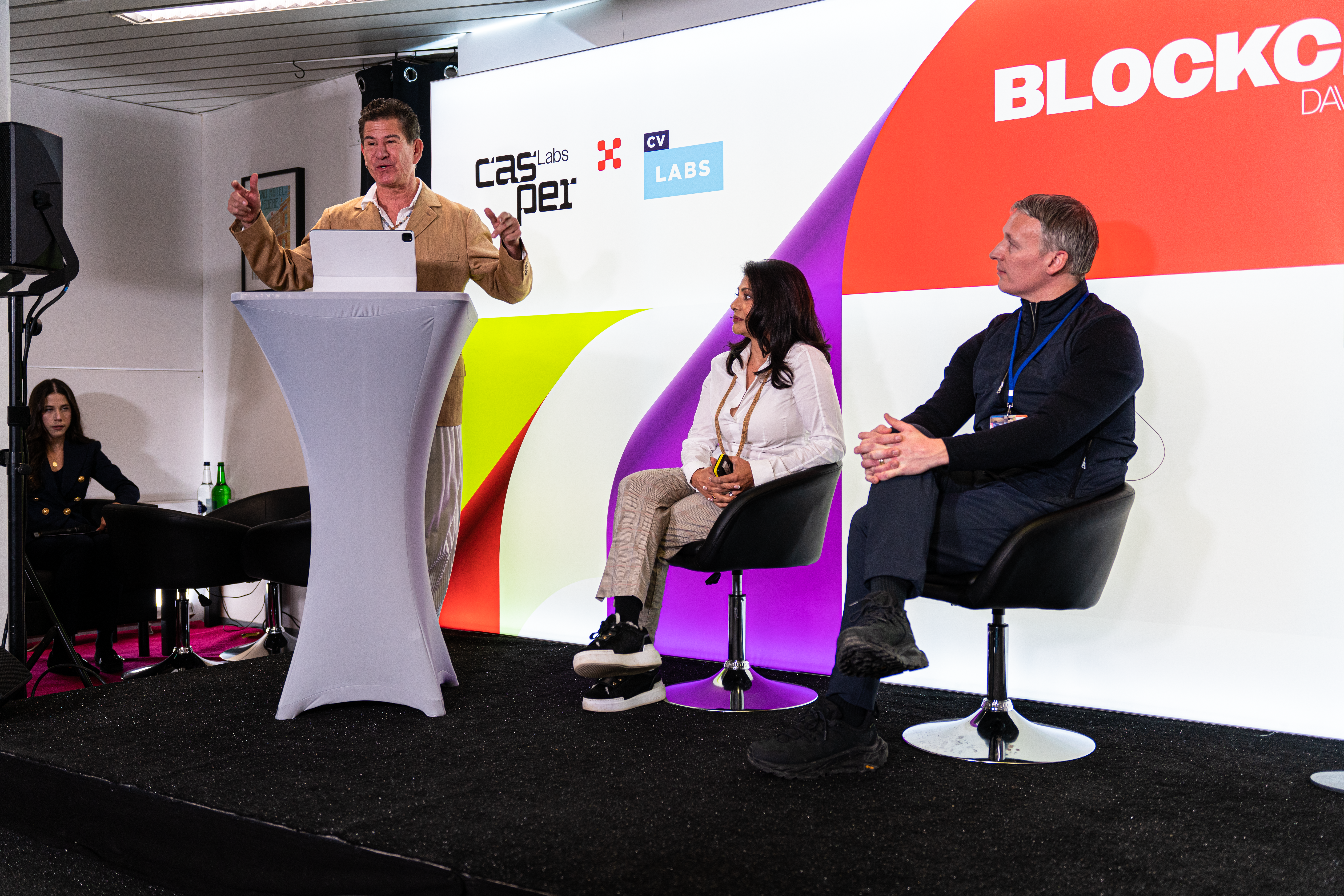 Photo Credit: Loris Di Minico
The afternoon session also included an exciting announcement that included XPRIZE's Peter Diamandis and Dr. Anousheh Ansari, RampRate's Tony Greenberg, Menagerie's Dr. Wulf Kaal and Casper Labs' own Medha Parlikar. Together, they announced one of the single-largest grant programs on Casper to date: more than 3 million euros, dedicated to fostering innovation in advanced, self-governing communities.
Rethinking NFTs
The later afternoon shifted to NFTs — and more specifically, how businesses are thinking about, adopting and creating new value with them. NFTs are about a lot more than digital collectibles, and, as the public hype cycle wanes, businesses are increasingly using them as novel ways to improve customer engagement and monetize existing assets. Key to this movement is the idea that the "NFT" and "blockchain" aspects should increasingly be abstracted in the end-user experience.
Smart Media Technologies CMO Noelle Reno provided a particularly interesting example of this phenomenon in action when describing a creative new, NFT-based activation her company is supporting with the Swiss Tourism Bureau. Afterwards, Blockchain Hub fan favorite Andrea Abrams of Phygicode returned before a packed audience to talk about how fashion brands are rethinking blockchain technology — along with the tremendous opportunities that lay ahead, and the considerable progress brands are already making on this front today.
Web3 Games That Are… Fun?!

The evening concluded with a series of panels dedicated to the oft-discussed topic of web3 gaming. While few people dispute its potential, there has yet to be a game emerge that has a truly widespread adoption in web3 circles — to say nothing of mainstream gaming communities.
Metavest Capital's Tim McCann's evening keynote challenged the notion that "play to earn" will define the future of web3 gaming. Play to earn is dead, according to McCann; it's simply unable to drive sustainable ecosystems.
A common theme espoused by speakers in this section, which also included Beast League, which will be unveiling a new game later this year (think Ironman meets basketball, per co-founder John Weinberg), is the need for blockchain to be a "silent act" in the end-user experience.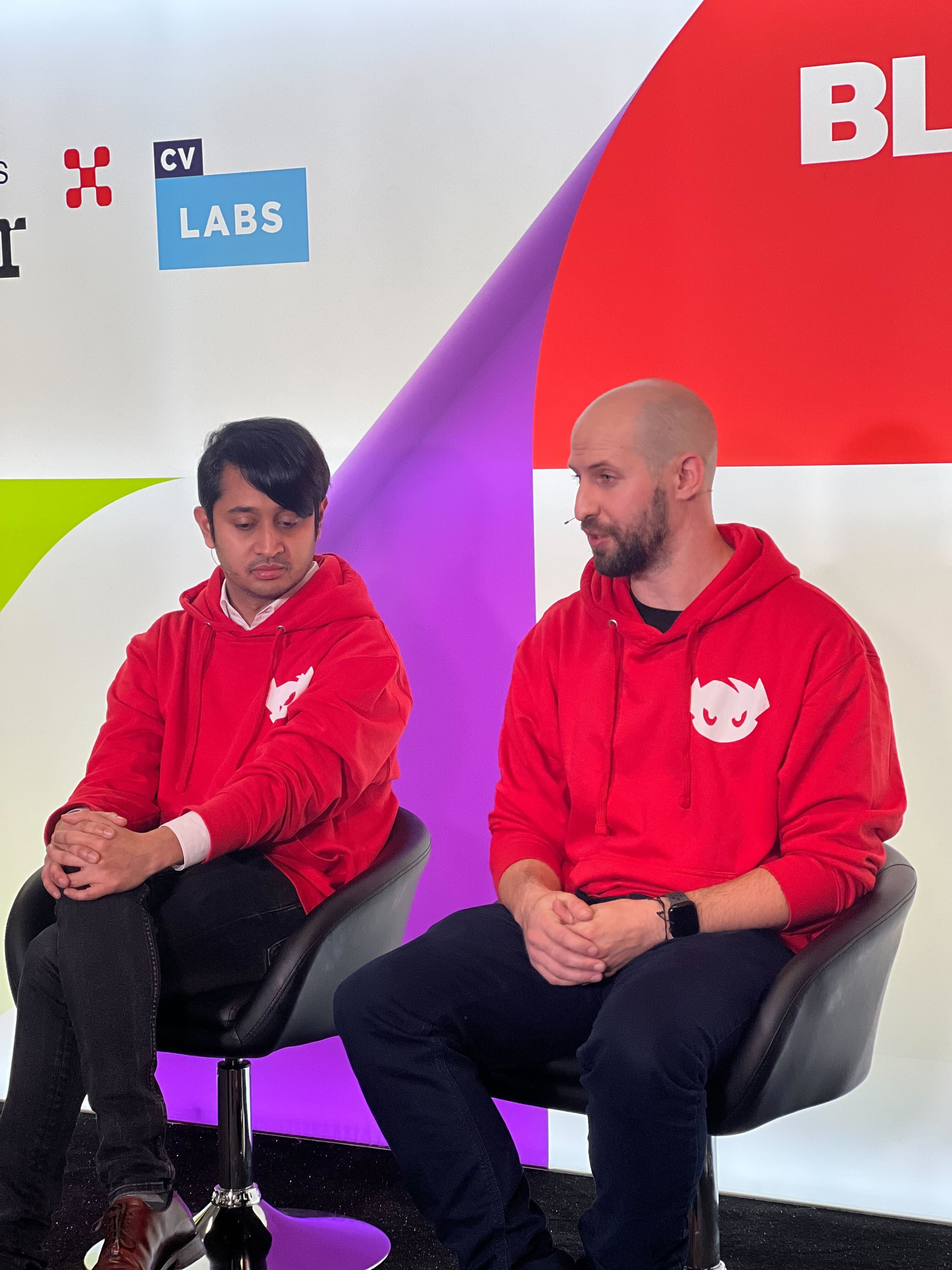 Mrinal and Beast League's John Weinberg. Photo Credit: Loris Di Minico
… And with that, Blockchain Hub at Davos was a wrap. Thanks to everybody who came out and supported what was an even bigger and better event than last year.
We'll see you back in Davos in 2024!
---
Sign up for our newsletter!